Trouble In The Heartland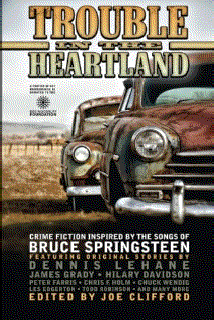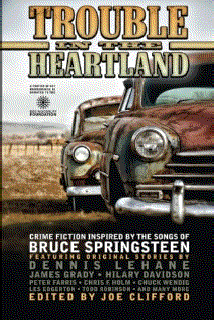 Edited by Joe Clifford
Crime Fiction Inspired by the Songs of Bruce Springsteen
Each of the accomplished authors in this unique anthology chose a Springsteen title as a starting point, and in the criminally inclined spirit of the Boss, drove headlong to wherever that inspiration called. The destinations are as diverse and far-reaching as the songs that influenced them.
Order Now
The first in Gutter Books' Rock Anthology series! Featuring Dennis Lehane, James Grady, Hilary Davidson and many others.
About the editor:Joe Clifford is acquisitions editor for Gutter Books and producer of Lip Service West, a "gritty, real, raw" reading series in Oakland, CA. His bestselling Jay Porter Thriller Series (Oceanview Publishing) has received rave reviews from Publishers Weekly, Library Journal, and the San Francisco Chronicle, among many others. The third in the series, Give Up the Dead, released June 2017. Joe is also editor of Trouble in the Heartland: Crime Stories Based on the Songs of Bruce Springsteen and the forthcoming Just to Watch Them Die: Crime Fiction Inspired by the Songs of Johnny Cash. Currently Joe teaches online writing courses for LitReactor and around the country at various conferences and retreats.