BOMB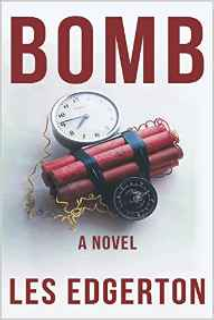 By Les Edgerton
The Perfect Crime Gone Wrong
When criminal genius Charles "Reader" Kincaid accidentally alerts a retired cop to the impending commission of the perfect crime, the crime becomes a lot less perfect.
Read More
Coming in 2023
Praise for Les Edgerton and BOMB
"Les Edgerton has swiftly become my favorite crime writer. Original voice, uncompromising attitude and a pure hardboiled style leap him to the front ranks of my reading list. He will become legendary."
—Joe R. Lansdale, Paradise Sky, The Bottoms, Edge of Dark Water, The Thicket, the Hap and Leonard series, the books behind the TV series of the same name, and many others
"Les Edgerton is the new High King of Noir."
—Ken Bruen, The Emerald Lie, The Guards, Pimp and many others
"I'm not sure which is more fascinating, Les Edgerton's IED of a suspense novel, BOMB! or the convoluted, heartbreaking story of its journey to publication. Both had me hooked. The good news is that you get it all with this fine new release from Gutter Books . . . With multiple story lines (each burning like a fuse), an authentic New Orleans setting, flawed good guys, and seriously—seriously—flawed bad guys, BOMB! is the work of a gifted writer who knows how to ratchet up the suspense. If you're high strung, this is not the book for you. Adrenaline junkies won't be disappointed."
—Grant Jerkins, Abnormal Man: A Novel, A Very Simple Crime, The Ninth Step and others
"Les Edgerton is the perfect reason for both of my favorite maxims: Don't trust anyone over thirty and: Don't trust crime fiction from anyone under thirty. The weight of experience behind Les's books is my anchor in the choppy waters of criminal literature."
—Jedidiah Ayres, author of Peckerwood
About the Author: Les Edgerton (MFA, Vermont College) is a novelist and author of Finding Your Voice. His short fiction has appeared in Best American Mystery Stories 2001, Kansas Quarterly, Arkansas Review, North Atlantic Review, Chiron Review, and many others. His honors include a Pushcart Prize nomination, Edgar Allan Poe Award nomination, and an Indiana Arts Commission Fellowship.