All Your Lies Came True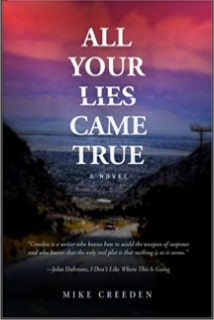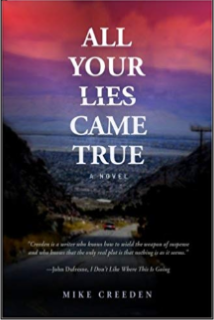 By Mike Creeden
A Rock and Roll Nightmare
Failed rocker Declan "Deck" St. James is eking out an existence writing click-bait for scandal sheets. When his old friend turned sobriety coach shows up and invites Deck to Joshua Tree, the drunk and drug-addled Deck passes on what he thinks is a thinly-veiled intervention.
Read More
Order Now!
Praise for Mike Creeden and All Your Lies Came True
"Creeden is s writer who knows how to wield the weapon of suspense and who knows that the only real plot is that nothing is as it seems."
—John Dufresne, I Don't Like Where This is Going
"All Your Lies Came True marries the gumshoe thriller to the foregone heartache of Los Angeles; rock music business, and the result is, in Creeden's hands, a match made in heaven. If Robert Mitchum kicked in the door of a Sex Pistols party, looking for some answers, the results might look a lot like what takes place in this inventive and absorbing debut thriller."
—Les Standiford, author of Water to the Angels: William Mulholland, His Monumental Aqueduct & the Rise of Los Angeles
About the Author: Mike Creeden's work has appeared in Tigertail, Miami Living, Everything is Broken, The Florida Book Review, and Trouble in the Heartland: Crime Fiction Inspired by the Songs of Bruce Springsteen. He lives with his wife in South Florida, and teaches writing at Florida International University.