Love Stories Are Too Violent For Me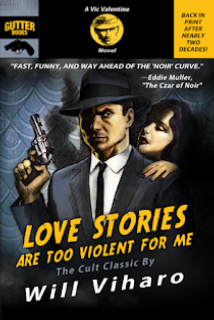 By Will Viharo
The Original Cult Classic!
Love Stories Are Too Violent For Me is ironic, iconic pulp served hot and fast, straight out of the emotionally gory grindhouse called Life.
Read More
ORDER NOW
Praise for Will Viharo and Love Stories are Too Violent for Me
"Fast, funny and way ahead of the 'noir' curve."
—Eddie Muller, "The Czar of Noir"
"As soon as I found this book I totally related to the main character and thought, 'this would make a great movie.' I'd never read anything like it."
—actor/filmmaker Christian Slater
"While it has all the trappings of Philip Marlowe by way of Race Williams, this book is an old fashioned (if slightly fractured) love story at heart…To tell more of the story is about as hopeless, as, well trying to explain the plot of a Marlowe or a Williams. It's in the telling, in the characters, in the whirlwind pace."
—Bernard A. Drew, The Armchair Detective
About the Author: Will "The Thrill" Viharo is a "gonzo pulp" author and B movie impresario. For 13 years he was host, programmer and producer of the live "cult movie cabaret" (B movies, live bands and burlesque) "Thrillville." Viharo is the author of several novels including the genre-mashing grindhouse noir A Mermaid Drowns in the Midnight Lounge, the exploitative crime satire Down a Dark Alley, and the bizarro pornographic horror novella, Freaks That Carry Your Luggage Up to the Room.