Fast One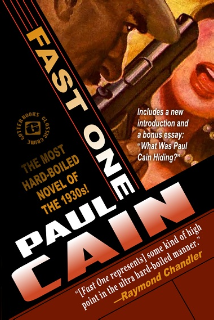 By Paul Cain
The Most Hard-Boiled Novel of the 1930s!
It's the last days of Prohibition and the first days of the Depression and East Coast crime bosses are vying for control of Los Angeles. Caught in the middle of the intrigues is Gerry Kells, a former New York enforcer now living a life of ease on the West Coast.
Read More
Order Now
Praise for Fast One
"In the matter of grim hardness Dashiell [Hammett] paused on the threshold. Paul [Cain] went all the way."
—Captain Joe Shaw, editor of Black Mask during its golden era
"[Fast One represents] some kind of high point in the ultra hard-boiled manner."
—Raymond Chandler
About the Author: Paul Cain was also known as the screenwriter Peter Ruric but was born in Iowa as George Carol Sims. Why he obsessively hid his true identity is not known.