Hard-Boiled Heart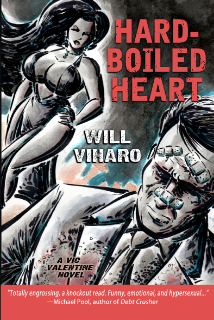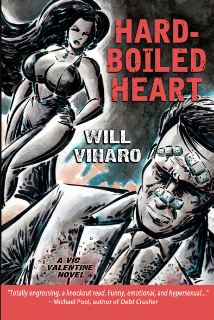 By Will Viharo
One More Round For Vic Valentine
Older but hardly wiser, Vic Valentine finds himself in hot water again when he becomes embroiled with a Hollywood bad boy who wants to make a film about the anachronistic private eye's tumultuous life.
Read More
Praise for Will Viharo and Hard-Boiled Heart
"Totally engrossing, a knockout read. Funny, emotional, and hypersexual, this book is another great installment in an amazing series that spans twenty years of writing. You've just got to love Vic Valentine, Private Eye."
—Michael Pool, author of Debt Crusher
"Loquacious gumshoe Vic Valentine makes a welcome return in Hard-Boiled Heart, the sixth novel in Will Viharo's cult classic series. Valentine, with his bottom-feeding clientele and penchant for exploring the underworld's weirdest fringes, is like a West Coast cousin to the late, great Charles Willeford's serial detective Hoke Mosely (Miami Blues). As always, Viharo's pulp fiction prose rockets the reader through Valentine's adventures and as the pages turn, the author's encyclopedic knowledge and adoration of pop culture's kitschiest corners elicits gut-bursts of laughter."
—Pete Crooks, author of The Setup: A True Story of Dirty Cops, Soccer Moms, and Reality TV
"Vic Valentine is back with a lusty vengeance. Armed with the same world-weary street smarts and B-movie quotes that made him the perfect, quirky anti-hero in Love Stories Are Too Violent For Me, Valentine gets reluctantly lured out of retirement by a movie star turned murder suspect in this fast-paced thriller. It's a story 20 years in the making, and one that any pulp fiction lover will definitely not want to miss."
—S.W. Lauden, author of Bad Citizen Corporation
"Will Viharo writes not just neo-noir but neon noir, his Vic Valentine novels brilliant paeans to Chandler, Hammett, and other aspects of pop culture that Viharo clearly loves, from old B-movies to Frank Sinatra. But his roots are only a backdrop for Viharo's modernization of the detective genre. Vic Valentine is a detective who falls hard for his dreams, knowing full well that he shouldn't. For Valentine it seems that the greatest defeat would be to give in to the idea that he cannot win. In Will Viharo's fast paced, witty and wise Vic Valentine novels, there is always hope, however hardboiled it may be. As with its predecessor, Love Stories Are Too Violent For Me, Viharo's Hard-Boiled Heart is a joy ride for the reader."
—Rob Pierce, author of Uncle Dust and The Things I Love Will Kill Me Yet
About the Author: Will "The Thrill" Viharo is a "gonzo pulp" author and B movie impresario. For 13 years he was host, programmer and producer of the live "cult movie cabaret" (B movies, live bands and burlesque) "Thrillville." Viharo is the author of several novels including the genre-mashing grindhouse noir A Mermaid Drowns in the Midnight Lounge, the exploitative crime satire Down a Dark Alley, and the bizarro pornographic horror novella, Freaks That Carry Your Luggage Up to the Room.