Coming Through In Waves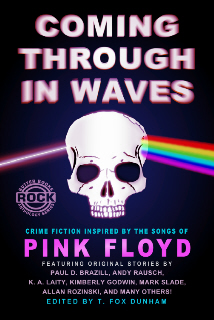 Edited by T. Fox Dunham
Crime Fiction Inspired by the Songs of Pink Floyd
Perhaps no other band or artist has equaled the lyrical and musical poignancy that Pink Floyd has achieved in landmark records such as The Dark Side of the Moon, Animals, Wish You Were Here, and The Wall.
Read More
Coming in 2023
A Portion of All Proceeds Benefit the Leukemia & Lymphoma Society
About the editor: T. Fox Dunham lives in Philadelphia with his wife, Allison. He's a lymphoma survivor, cancer patient, modern bard and historian. His first book, The Street Martyr, was published by Gutter Books. A television series based on the book is being produced by Throughline Films. His most recent work, Destroying the Tangible Illusion of Reality or Searching for Andy Kaufman, which explores what it's like to be dying of cancer, was recently released by Perpetual Motion Machine Publishing. Fox is an active member of the Horror Writers Association, and he has published hundreds of short stories and articles. His most recent is a story in the Stargate Anthology Points of Origin from MGM and Fandemonium Books. Fox is also host and creator of What Are You Afraid Of? Horror & Paranormal Show, a popular horror program on PARA-X RADIO. His motto is: wrecking civilization one story at a time. Find out more at www.tfoxdunham.com & Twitter: @TFoxDunham.